Tribute to Easterbrook Staff
We would like to share with you a touching letter of thanks from the parents of one of our residents. We are incredibly proud of our diligent and focused team of staff. Well done. Thank you to everyone supporting us during these challenging times.
From: Tom Gorman  
Subject: A Tribute to the Staff at Easterbrook
Date: 15 July 2020 20:53:34 BST
To: Graham Axford
Hello Graham,
We hope you're keeping well in these unusual times.
We hope also that you know from our replies to your joint update emails with Michelle that we are full of respect and admiration, indeed awe, for the dedicated, controlled, caring, focused and resourceful manner in which Michelle and the staff have been keeping the virus from the door, whilst also motivating the housemates to cope with these very trying circumstances and rise above them. Watching from afar, we can only begin to imagine how challenging and how much of a personal strain it must have imposed on each and every one of the staff team, balancing the needs of Easterbrook's housemates with their personal and family needs. We salute them all now, just as we did from our doorstep during the "Clap for Carers" events.
We also want to pay a special tribute to the Registered Manager. Michelle has been simply awesome in coping with the real and present danger of the most pernicious threat in our lifetimes. She has been calm, organised, determined, inspirational, professional and effective in her leadership and she merits our deepest appreciation and respect. We are indeed most fortunate to have her in post at Easterbrook.
Regards Tom & Sue. 
A Special Message of Thanks
During these particularly challenging, worrying and uncertain times, we have received an encouraging message of thanks from Matt Hancock – Health & Social Care Secretary
To my brilliant colleagues in social care,
The last few weeks have been difficult for all of us. I am acutely conscious that you, along with colleagues across the health and social care system, are on the front line caring for and supporting people in incredibly challenging circumstances. Many of the people you care for will be in groups that are at higher risk from Covid-19 and I know that you will have naturally felt concerned for them. At the same time, you will have been grappling with the same issues we all face: how we can best keep ourselves and our loved ones healthy, juggling our own personal caring responsibilities, and looking out for our friends, our neighbours and communities.
My main message to you is simple: thank you.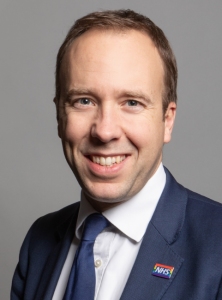 Thank you for going the extra mile to make sure the people who rely on you are supported. Thank you in advance for the difficult decisions you will have to make that will keep as many people as possible safe. Thank you for taking on extra shifts to cover for those who need to isolate or have their own caring responsibilities. Thank you for doing the right thing by isolating if you or somebody you live with has symptoms. Thank you for everything you are doing this week, next week and in the months to come.
We face more difficult times ahead and I know you will have been personally impacted by the measures we have had to take to reduce the spread of Covid-19. Whilst many people are now staying at home, I know that is not an option for most of you as your work, caring for others, cannot be done from home. We will do all we can to make your lives easier during this period, including, for example, making parking on council owned on-street spaces and car parks free for those who work in social care.
The Government is releasing advice and information updates daily and we are working round the clock to make sure you and your employer have the information, equipment and resources you need. For those of you that use Twitter, please follow the Department for Health and Social Care (@DHSCgovuk) for the latest information. We will also make it available through other channels. I also want to reiterate what the Chancellor has said: we are committed to doing whatever is needed; that promise applies just as much to social care as it does for the NHS.
Thank you again for everything you do.
The Directors of Easterbrook Farm and Michelle, Registered Manager, would like to express their sincere thanks to all of our wonderful staff who are not only providing excellent support to our housemates in these challenging times against this Covid 19 virus pandemic, but also doing their utmost to ensure that they themselves take all sensible precautions to stay safe. Without such excellent staff who are prepared to step forward to cover sudden unforeseen absence Easterbrook's effort would be extremely tested.
May we, also, express our thanks too to all other local and medical services that provide their support as well as to parents who help housemates and our Team to manage our housemates' expectations.
Do, please, keep safe.
With very best wishes
Anne, Elizabeth, Robin, Graham and Michelle.
Welcome to Easterbrook Farm
A unique residential home for adults with learning disabilities in the heart of rural Devon.
Easterbrook Farm's focus is to support physically able people with moderate to severe learning disabilities, with or without challenging behaviour, who wish to lead active and fulfilling lives in a rural environment and to practice and develop their life skills. Our aim is that people with a learning disability have opportunities to develop personal and life skills in a comfortable, open and vibrant residential environment.

About Us
Easterbrook is a working farm and everyone who lives here has ownership of their environment. This requires everyone to break away from the thought of the usual day-care routine (9am – 5pm Mon – Fri) and embrace the idea that a farm requires attention seven days a week and at unsociable hours. With this comes great responsibility but even greater rewards as life, at Easterbrook Farm, is full of enriching and fulfilling experiences.
We recognise individual aspiration and delight when personal objectives are achieved: we work alongside people to support them in planning their lives, make choices, and achieve their goals. We aim to achieve equality and participation within an open society where both those who live here and our staff are valued and respected with the same human and civil rights as everyone else. This attitude forms the basis of all working policies and practices within Easterbrook. "Success is an attitude"
Easterbrook Farm is arranged in 3 detached buildings:
"The Farmhouse" consists of 4 bedrooms and large communal areas.
"The Granary" has 6 bedrooms, all ensuite. There is a communal lounge, kitchenette and the ground floor bedroom. The entire ground floor has wheelchair access.
"The Shippen" is a 2 bedroom cottage with ensuite toilet facilities, bathroom, large lounge/kitchen. The design and arrangement of rooms has been deliberately created to provide a large amount of communal space and also to afford privacy in general conformity to CQC minimum standards. Each room is different in design to promote individuality and to avoid institutional environments.
Being a farm based service, everyone is encouraged to participate in maintaining the welfare of all animals living on the farm and engage in whatever supported activities they may choose and which may be planned including:
Drama & Acting
Sport including Swimming, Fencing & Riding
Shopping
Visiting the Cinema, Church & Local Pubs
Country Walks & Rambling (Dartmoor/Exmoor)
Pottery, Arts & Crafts
Trips to the beach & holidays
Physiotherapy and Speech & Language Therapy is available, as required, as part of the general services provided by Devon County Council and local National Health Trusts. National Health services are available to everyone who needs to use them. For a more comprehensive list of activities available to people at Easterbrook Farm see "Activities" below.
For all enquiries contact Michelle Holland, Registered Manager, on the following details or write to us using our contact form:
Easterbrook Farm, Exbourne, Okehampton, Devon.               EX20 3QY
01837 851 674
Click edit button to change this text.